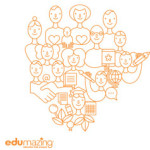 We are very excited to share our first blog post of many on our S.P.I.C.E of Learning Blog. We have created this blog for educators, parents and learning organisations to celebrate and share valuable information and resources that support quality life-long learning for all.
 The title S.P.I.C.E of Learning forms a strong part of our Human LiteracyTM philosophy of learning and life-long success.
We hope you enjoy reading and invite you to contribute your thoughts and ideas in upcoming posts.
From the Edumazing Team